Print Topic
What is the MackinVIA™ Reader?
The MackinVIA™ Reader is a cross-platform application that allows you to read Mackin-hosted titles in MackinVIA. Besides flipping pages in the Reader, you can view a linked table of contents and thumbnails, access information about the digital resource, bookmark pages, search through the text, write notes, cite sources, access a dictionary, zoom in/out, change the page view, pan around the page and close the resource when you're finished.
Resources hosted by Mackin will open in the MackinVIA Reader when you choose the Open Now button or tap on a resource inside your Checkouts on the app. Only Mackin-hosted titles are viewable and/or downloadable in the MackinVIA Reader. Your school may also own digital resources hosted on other platforms.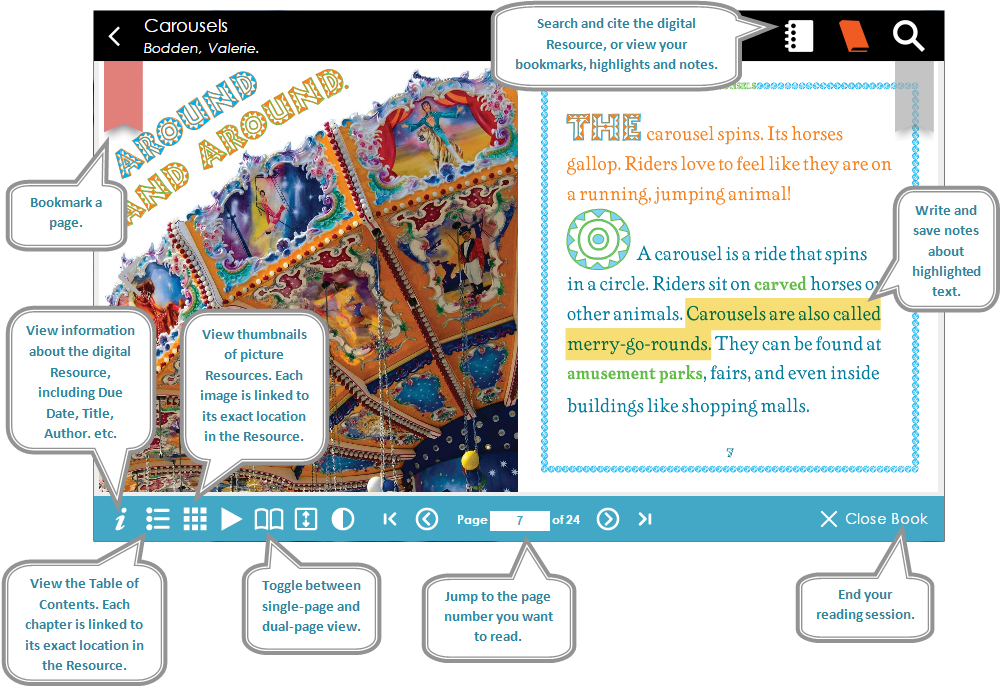 ---
Main Menu
The MackinVIA Reader has a main menu in the upper right corner.

A Notebook button, to view the list of your bookmarks, highlights and notes. Each entry is linked to its exact location in the resource.
A Citation button, to view a bibliographic citation of the resource, provided by EasyBib.
A Search button, to find a term inside the resource.
---
Highlight Passages of Text
When a passage is selected in a resource, a highlight menu appears.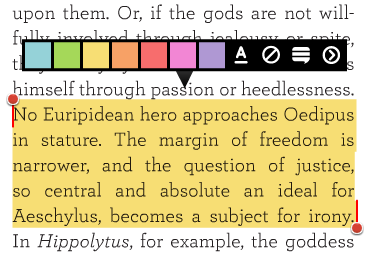 The highlight menu contains:
A variety of highlight colors

An Add Note button, which associates a note with the passage
---
Highlight Terms
When a term is selected in the resource, an Options menu appears.

The Options menu contains several buttons, including:
Add Note, which allows a note to be associated with the selected term